Q:Hey mister, just wondering, where are you for this quite long time? It is said that your last post is about 3 months ago. I love your post, and it's kinda sad when I can't see pics of happy little kids like you usually post. Hope you can start tumblr-ing again soon, and hope you just go well. God bless :)
amsek
Hello!
I'm really sorry, but I've been very busy for a long time. I'm the manager of a french school, and it's a work that takes a lot of time and a bit of energy. So in these last months I couldn't work on this blog as much as I wanted.
I promise you I will stumblr again soon!
Kisses…
Blood of Eden
Peter Gabriel dans l'émission française Taratata en juin 1993.
Peter Gabriel on the french TV show Taratata in June 1993.
Sans titre (2010)
James Marshall (Dalek)
Red Cat Fight
Huile sur toile - 48x42 cm - 1999
Dana Holst
The Dark inside
Lady Twiglet
Lucian Freud
Jeune femme au lit
Huile sur toile
45,7 x 30,5 cm - 1952
(Collection particulière)
Vive Laura Dekker !
Parfois la conviction l'emporte… et c'est tant mieux! Dans une société où on cherche à enfermer les adolescents et les jeunes adultes dans une enfance à rallonge, lire que Laura Dekker a victorieusement bouclé son tour du monde à la voile prouve -s'il en était besoin- que la valeur n'attend décidément pas le nombre des années -ce dont ne semblent pas persuadés ni la justice ni le Guinness Book, et ça fait un bien fou!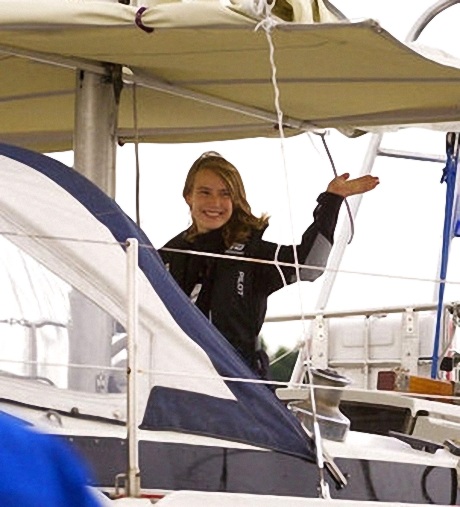 Et si elle avait disparu durant la traversée (fort coup de vent, collision avec une baleine,…) ? Eh bien elle serait partie en ayant fait ce pour quoi elle s'est battue pendant des années. Rappelez-vous qu'elle voulait faire ce tour du monde il y a trois ans, et que ça avait été partout une levée de boucliers! Nous avons bien les sociétés que nous méritons, sociétés d'assistés et d'assisteurs, ces derniers trouvant certainement un grand confort politique en interdisant tout tout tout et en ne laissant plus à quiconque la moindre marge de liberté. Vive Laura Dekker!
In the corner - At Home (Marcus Ward & Co. London, 1881)
John G. Sowerby
Roses are red. Are Violets blue? (1973)
Alice et Martin Provensen
Moontime Illuminated Orb Tree
Acrylique sur toile - 2009
Elspeth McLean